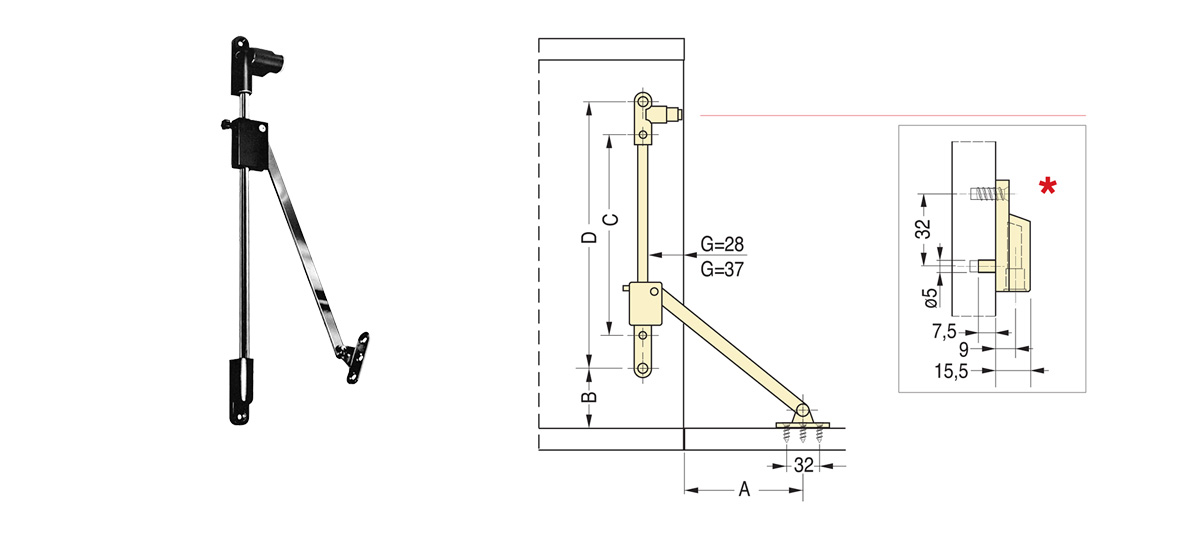 OME COMPORRE IL CODICE PER ORDINARE LE ASTE
Update for ordering
All construction characteristics are indicated in a table: materials, dimensions, finishes, colours, number of pieces in the pack.
We created this representation in order to rationalise the order.
Let's take a hypothetical order:
choose the article in function your technical/aesthetical needs

the best measurements are chosen for your application

right and left attachment

colour of the material

foot
With these requirements, we compose the code:
AT0                         2030                                          S      BIA       00
Pole with magnet      Article with related dimensions    left    White    Normal foot
Loosen the screw, in order to increase the brake.
| | A | B | C | Dx | Sx | Nylon MAR | Nylon BIA | Nylon NER | Norm 00 | M6 | Tot. |
| --- | --- | --- | --- | --- | --- | --- | --- | --- | --- | --- | --- |
| G=28 mm | | | | | | | | | | | |
| 3040 | 100 | 22 | 192 | 256 | • | • | • | • | • | • | 25 |
| 3041 | 126 | 54 | 224 | 288 | • | • | • | • | • | • | 25 |
| 3042 | 139 | 54 | 256 | 320 | • | • | • | • | • | • | 25 |
| 3043 | 177 | 86 | 288 | 352 | • | • | • | • | • | • | 25 |
| 3044 | 217 | 118 | 352 | 416 | • | • | • | • | • | • | 25 |
| | A | B | C | Dx | Sx | Nylon MAR | Nylon BIA | Nylon NER | Norm 00 | M6 | Tot. |
| --- | --- | --- | --- | --- | --- | --- | --- | --- | --- | --- | --- |
| G=37 mm | | | | | | | | | | | 25 |
| 3050 | 91 | 22 | 192 | 256 | • | • | • | • | • | • | 25 |
| 3051 | 117 | 54 | 224 | 288 | • | • | • | • | • | • | 25 |
| 3052 | 130 | 54 | 256 | 320 | • | • | • | • | • | • | 25 |
| 3053 | 168 | 86 | 288 | 352 | • | • | • | • | • | • | 25 |
| 3054 | 208 | 118 | 352 | 416 | • | • | • | • | • | • | 25 |